We are committed to providing you with professional
solutions! Guided by the international and domestic markets, we will continue to develop and expand the scale of the company, improve the quality of products, and establish a complete quality assurance system and production management system. We insist that the quality standard of each product must be higher than the industry level to ensure that the product reaches a unified standard and quality.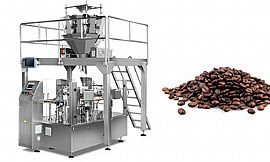 Coffee bean Packing Machine
Model: 200RG/300RG
PRODUCT INFORMATION
<-------- Can Move Left or Right -------->
Model
MR8-200RH
MR8-200R
MR8-300R
Bag Pattern
Four-side seal bags, stand-up pouches , zipper bags, paper bags, etc.
Bag Size

W:80-210m L:100-300mm
W:80-210m L:100-300mm
W:190-300mm L:100-300mm
Filling Volume
10g-2000g
10g-2000g
10g-2500g
Max.Speed
60bags/min
60bags/min
45bags/min
Power

4kw
4kw
4kw
Approx Weight
1700kgs
1500kgs
1700kgs
Compress air requirment
0.6m³/min

Our Value is : Innovative , Precise , Service, Faith
Our Mision:Be your first choice in pouch packing machine
Our Vission : Design and manufacture the most suitable and cost packing machine for the customers.
COFFEE BEAN PACKING MACHINE RELATED PRODUCTS