We are committed to providing you with professional
solutions! Guided by the international and domestic markets, we will continue to develop and expand the scale of the company, improve the quality of products, and establish a complete quality assurance system and production management system. We insist that the quality standard of each product must be higher than the industry level to ensure that the product reaches a unified standard and quality.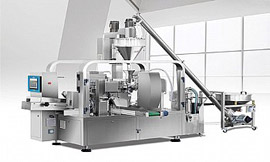 Seasoning Powder Packing Machine
Model: MR8-200R/300R
PRODUCT INFORMATION
Main Technical Parameters
<-------- Can Move Left or Right -------->
Model
MR8-200RH
MR8-200R
MR8-300R
Bag Pattern
Four-side seal bags, stand-up pouches , zipper bags, paper bags, etc.
Bag Size

W:80-210m L:100-300mm
W:80-210m L:100-300mm
W:190-300mm L:100-300mm
Filling Volume
10g-2000g
10g-2000g
10g-2500g
Max.Speed
60bags/min
60bags/min
45bags/min
Power

4kw
4kw
4kw
Approx Weight
1700kgs
1500kgs
1700kgs
Compress air requirment
0.6m³/min


Application
<-------- Can Move Left or Right -------->
The powder packing machine is suitable for powder material,such as milk powder,flour,coffee powder,seasoning,additive,chemical supplies and other powder material automatic packing
Features and Characteristics
<-------- Can Move Left or Right -------->
1. Quick change-over and automatic adjustment of pouch widt
2. The advanced design ensures a stable performance and a longer life of the equipment, and a lower rate of defective products.
3. Comply with the sanitation requirements of food Packing equipment to ensure food hygiene and safety
4. A low waste of Packing materials
5.The machine adopts attractable premade pouches with a high-quality sealing,resulting in improved product quality and grades.
6. Easy to Operate, with advanced PLC and POD (touch screen) electrical control system.
SEASONING POWDER PACKING MACHINE RELATED PRODUCTS